African Food Tasting Event Salem, Oregon
You don't need a passport to take your tastebuds on a trip to Africa! Explore the sensational favors of the motherland in Salem, Oregon! Bring your appetite and join Flourish Spices And African Food Saturday, August 12th for an all you can eat African food tasting experience. Whether you are an African food lover or never tasted African food before, you are invited to indulge in the deliciousness.
Save the date: August 12th, 2023
Where: Comfort Suites Hotel 640 Hawthorne Ave SE, Salem, OR
Learn More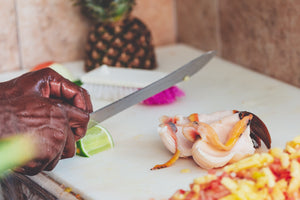 Cooking Classes
I am excited to share my African cooking heritage with you. I call them secrets in my kitchen because they've passed down three generations. I'm keeping the legacy by passing these secrets to the next generation and people who need them. They are a combination of my experience in watching all the food  shows on tv (shhhhhhhhh one of my secrets) and other secrets passed down.
Contact us to schedule a class!
Learn More
We Cater For Events
Yes we are ready to take your orders, Please give us 24hrs to prepare your food. Our African food comes in 8 qrt regular sized pans or 4 qrt sized pans. 
Just in case you are a young professional, or bachelor who loves African food but do not have the luxury of time to prepare these meals,or you only need food for 2 or 3 people, Give us a call . We have a menu plan that will fit your budget for the week with different African food and sauces.
Learn More
About Us
We hope you can find everything you need. Flourish Spices & African Food focuses on providing high-quality service and customer satisfaction - Meeting your expectations is our priority. With a variety of offerings to choose from, Flourish Spices & African Food offers catering services for events, cooking classes 
we're sure you'll be happy working with us. Look around our website and if you have any comments or questions, please feel free to contact us.
We hope to see you again! Check back later for new updates to our website. There's much more to come!
Blog
---
Fall is right around the corner. Can you feel the gradual change in season? The trees are teasing me with an appetizer of their magnificent display of autumn hues -...
Who likes making mistakes? No hands? I didn't think so. We are often taught that making a mistake is bad, and that it's something we should avoid. Because of this,...
After a long 2 years of COVID-19 break, we finally went to World Beat Festival again. World Beat Festival is a festival held every last weekend in June of every...
Contact Us
1555 Hawthorne ave NE
Salem
Oregon 97301
Office +19712392065
Cell +16789331100